About Me
The blog for the equal pie-portunist. Making the world more delicious, one pie at a time.
An all too early morning was had today to celebrate Kate and Wills gettin' hitched.  I rolled out of bed, put on my fascinator and video chatted with one of my friends in London.  I giggled when I turned on Twitter to find that many of my friends who were in the "I don't care" crowd glued to the telly watching the event unfold.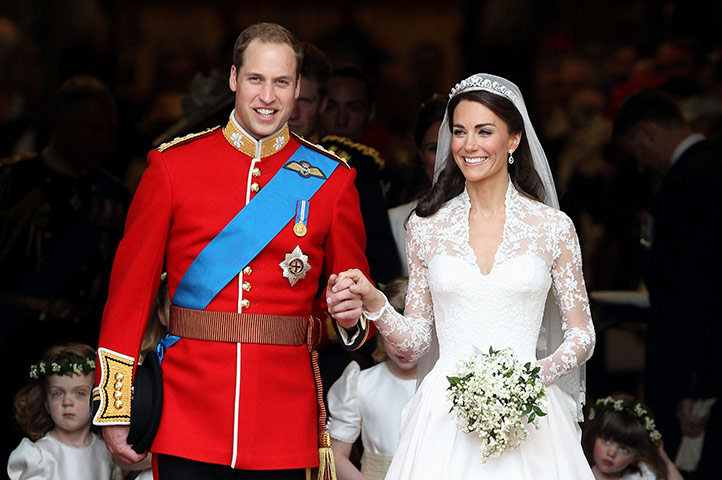 The dress was gorgeous, Princesses Eugenie and Beatrice looked like the wicked step sisters, the tribute to Princess Diana was so sweet and the Queen wowed the crowd in butter yellow.
Westminster Abbey solidified it's place in my heart as one of the most beautiful buildings in the world.  I remember my first time stepping inside and just being in awe of it's enormity and beauty.
With the royal wedding happening on Friday Pie Day, I had to do a themed pie.  If you're new to the blog, I am a bit Brit obsessed.  And if you're a grumpy so and so who hates love and pomp and circumstance, then I am sorry you will have to wade through that for this delicious pie. *wink*
For this recipe I wanted to recreate the Union Jack flag and use golden syrup approved by the Queen herself.  I think it tastes like liquid brown sugar…it is amazing!
Cheers,
Sunny
Royal Wedding Berry Pie (aka The Union Jack)
adapted from Martha Stewart's Flag Berry Tarts recipe
Ingredients
1 Vanilla Shortbread Crust
8 oz. cream cheese
1/2 tsp. vanilla extract
1/2 cup creme fraiche
1 1/2 cup confectioner's sugar
4 oz. semisweet chocolate, melted
1/4 cup golden syrup
6 large strawberries
2 1/2 cups fresh blueberries
1 cup heavy cream for whipping
Directions
Preheat oven to 375 degrees. Bake shortbread crust until just starting to color, about 15 minutes.  Cover edges with foil to prevent burning, and bake until crisp and dark golden brown, about 12 minutes more. Transfer to a wire rack; let cool completely.
With an electric mixer, beat cream cheese and vanilla in a large bowl until soft.  Beat in the creme fraiche 1/4 cup at a time.  Fold in 1/2 cup of the confectioner's sugar.  Chill in the fridge for 2 hours.
Melt chocolate in a heatproof bowl set over a pan of simmering water, stirring until smooth. Using the back of a spoon, spread the melted chocolate onto bottom the pie crust, and refrigerate until chocolate is set, about 10 minutes.
Using the back of a spoon, spread the cream mixture over the chocolate layer; set aside.
Heat golden syrup to thin.  Wash and dry fruit before dipping into the golden syrup.  Press the fruit into the cream to decorate as you wish!
In another bowl, beat cold heavy cream until it holds soft peaks. Gradually mix in 1 cup of confectioner's sugar.  Pour into a pastry bag or a plastic sandwich bag, cut off the tip and pipe the finishing touches.
bustedkeaton reblogged this from foryourpiesonly
emarfssim reblogged this from foryourpiesonly
foryourpiesonly posted this